Loaded | Recycled | Disposed
Junk Removal by the Truck Load
16 Cubic Yard Capacity
We Load, Recycle and ethically dispose of all the items you request. You never lift a finger!
How We Work
Here's a list of some items Jupiter Junk Removal has taken in the past:
Construction Debris *ask about contractor pricing*

Household Junk

Furniture

Mattresses

Carpeting

Electronics - Including TV's & Computers

Yard Debris

Hot Tubs

Appliances

Non-Hazardous Materials

And More!
Learn more about our services including our single item removal and contractor pricing by viewing the full list of Jupiter Junk Removal services.
Honest | Up Front | On Time
Who We Are
If you've been searching for Junk Removal pricing in Palm Beach, Martin, or St. Lucie County, look no further than Jupiter Junk Removal. We will load, recycle, and ethically dispose of all your junk and provide you with the BEST junk removal rates and most reliable service in town. Our junk removal fleet is fitted with trucks that can carry 16 cubic yards in capacity. Each estimate is personalized to your junk, trash, debris, or rubbish. We work with you to coordinate where your items are being removed from and ALL fees are included in our estimate, including fuel and disposal fees.
We look forward to building long term relationships with our customer through our trustworthiness. We understand your time is very valuable. Expect us on time and ready to serve you however we can.
We are a family business and our team is like a family to us. When you work with us you'll be treated like family too.
Schedule Appointment
All estimates are free and all appointment dates are flexible according scheduling.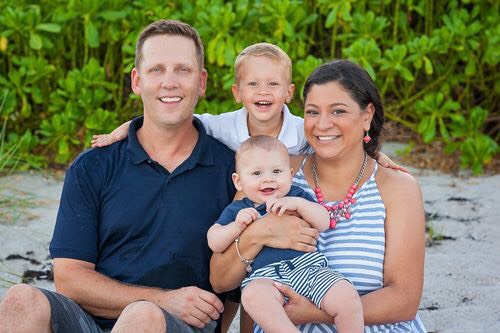 Owners & Operators of Jupiter Junk Removal
About Jupiter Junk Removal
Local Family Owned
We're proud to be a local family business based in Jupiter, Florida. My wife and I have started this business from the ground up. Our five years of experience in the industry gives us the edge to understand every customer. We know that regardless of the job you have for us, you still want to be treated like family. We strive to keep our removal process eco-friendly and focus on being available when our customers needs us most. Jupiter Junk Removal is family owned and operated with a focus on the customer like they are family too.
Our PROMISE
We never compromise quality for time and always give our clients realistic schedules that accommodate their lives. We strive for honest customer service, so contracts are only paid in full when the finished work is to your complete satisfaction.
Schedule An Appointment